AnnieFood.com 十分重視食品質量及安全
> 所屬集團持有可處理刺身食品的食品製造廠牌照 (牌照號碼2915801259);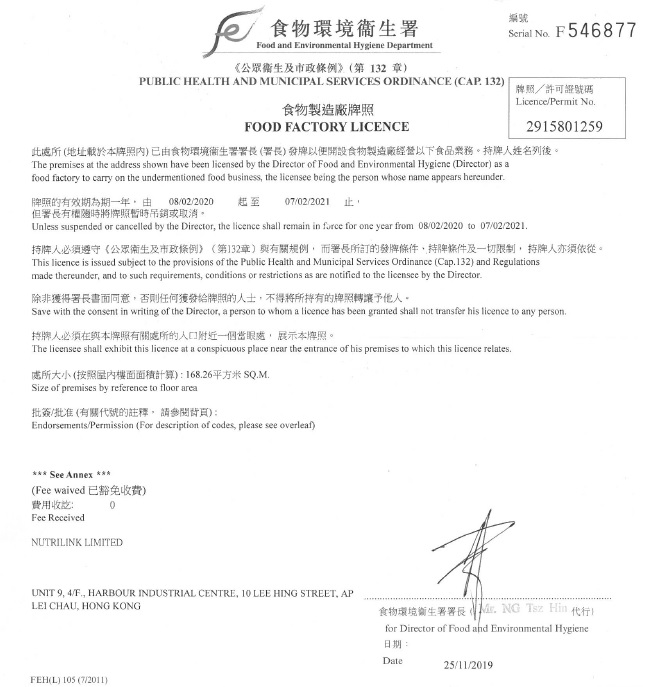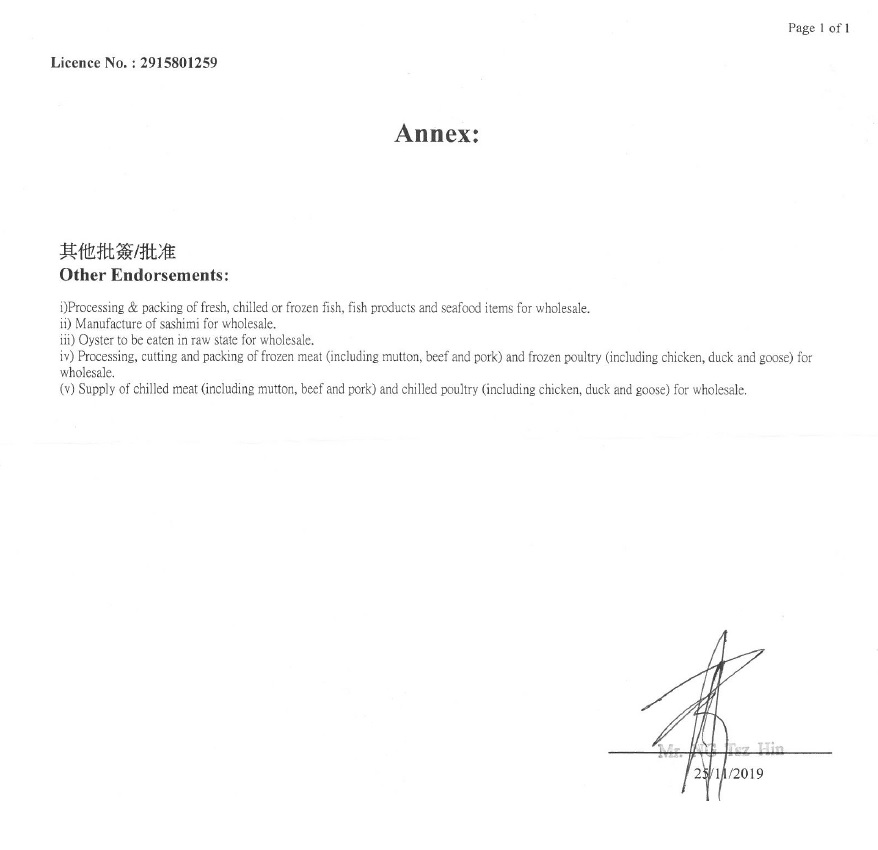 > 所屬集團自設超過5000呎凍房,並有24小時監察系統,確保食物品質;
> 擁有自己的冷凍物流車隊,及與順豐速運的冷凍物流合作,可於運送過程中確保食品新鮮及安全;
> 所屬集團是外國優質食品進口商,從美國、日本、歐洲等重視食品質量及安全的國家搜羅食材,
並與當地實力雄厚的供應商建立長期合作關係;
> 所屬集團現時香港客户包括航空公司、主題樂園、五星级酒店、米芝蓮餐廳、精品超市等。
AnnieFood.com 十分重視客戶服務
> 客戶服務代表解答顧客查詢及聽取意見;
> 擁有自己的物流車隊,毋須外判送貨,大大減少送貨延誤情況。
AnnieFood.com 售價相宜
> 公司透過網購形式,減省地舖租金等開支,做到售價較一般店舖便宜。
AnnieFood.com 支持環保
> 本公司部份產品獲可持續海產認證 (MSC)及/或獲選入世界自然基金(WWF) 產品目綠。
AnnieFood.com 支持社企及弱勢社群
> 為回饋社會,所屬集團支持社企及弱勢社群,例如"正生會"等。
顧客如有任何查詢或意見,歡迎與我們聯絡
> 電話 : (852) 9135-4868
> 電郵 : order@anniefood.com
> 辦公時間 : 星期一至六 上午8:30 – 下午5:30
> 送貨時間 : 星期一至日 上午10:00 –下午6:00
> 地址 : 香港鴨利洲利興街10號港灣工貿中心4樓410室
---
ABOUT US
AnnieFood.com concerns Food Safety and Quality
> The Group holds the permits issued from FEHD for legally processing and online-selling food including
sashimi foods (License No. : 2915801259);
> The Group owns over 5000 feet freezer storage with 24-hour CCTV monitoring system.
We keep your food in proper environment;
> We deliver your food by freezer trucks, which keeps food quality and freshness during the delivery;
> The Group is an overseas premium food importer;We select premium food from USA, Europe, Japan, etc.
and establish long term partnership with the overseas suppliers;
> The Group's existing customers in Hong Kong including airlines, theme parks, 5-star hotels, Michelin
restaurants, boutique supermarkets, etc.
AnnieFood.com concerns Customer Service
> Delegated customer service officer will answer your enquiry and listen to your comments;
> 7-days delivery service;
> Same day delivery can be arranged if order is received before 8 a.m.;
> Self-employed delivery team to reduce problems caused by outsourcing delivery service.
AnnieFood.com concerns Price
> The company provides online shop service, to save expensive cost from physical shop rental;
That is one of the main reasons our price is very competitive.
AnnieFood.com concerns Environmental Friendly
> Some of our food products has MSC certification and/or listed in WWF product list.
AnnieFood.com concerns CSR
> The Group takes Corporate Social Responsibility (CSR), and supports the Disadvantaged;
One of the organizations we support is "Christian Zheng Sheng College".
For inquiries, please contact us
> Tel: (852) 9135-4868
> Email : order@anniefood.com
> Office Hour : Mon. to Sat. 8:30 a.m. – 5:30 p.m.
> Delivery : Mon. to Sun. 10:00 a.m. – 7:00 p.m.
> Office Address : Room 410, Harbour Ind'l Ctr., 10 Lee Hing Street, Ap Lei Chau, Hong Kong.